Bigfoot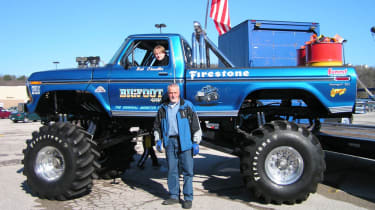 BigfootFan – Creative Commons, Wikipedia
The monster truck craze started here, with a once humble 1974 F-250 pick-up, converted by its owner Bob Chandler, aka 'Bigfoot'. Chandler ran an off-road parts shop, and the name for his unique promotional vehicle derived from his own nickname which reflected his driving style.
Car-crushing appearances on the show circuit led to movie and TV roles for Bigfoot the truck in its various iterations, with parts in The Cannonball Run, Police Academy and Charlie's Angels: Full Throttle all helping to assure the famous blue pick-up trucks their place in automotive popular culture. In fact, since the 1970s, the Bigfoot franchise has seen more than 20 monster trucks built bearing the name.  (Pic. BigfootFan – Creative Commons, Wiipedia)
Oklahoma Willy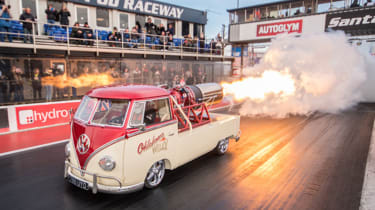 In the pantheon of jet-assisted dragsters, this Type 2 VW pick-up must be one of the prettiest. It's a nicely restored 1958 example with the most obvious modification the addition of a Rolls-Royce Viper 535 jet engine that's bolted onto the load area.
Amazingly Oklahoma Willy is street legal, in spite of its theoretical 300mph top speed, because it retains its original rear-mounted engine under the load bay. This extraordinary drag strip hero was a labour of love for its creator Perry Watkins, who spent six years on the project.
Tesla Cybertruck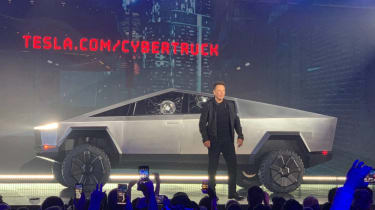 Elon Musk's electric pick-up truck stunned reviewers when it was revealed in 2019, thanks to its futuristic/nihilistic design that looks more like an armoured vehicle than a work truck. Deliveries are slated to start in 2021, at which point we'll discover if it's the 'game-changer' for the pick-up truck sector that Musk has promised.
Aside from the jaw-dropping design, the Cyber Truck includes features such as bullet-proof bodywork, self-levelling suspension and onboard inverters so you can plug in 240-volt power tools. Range is estimated at 250 to 500 miles depending on model, and acceleration from 0-62mph between 2.9 and 6.5 seconds making this one high-speed hauler. (Pic. Tesla Motors)
Read about the Ferrari pick-up on page 8…