Utah State University was granted $26 million from the National Science Foundation for an international engineering research center — the first in Utah in more than 30 years and the only one of its kind dedicated to advancing electric transportation.
The five-year funding agreement, which can be renewed up to 10 years and $50.6 million, goes into effect on Sept. 1.
The NSF funding has created the Advancing Sustainability through Powered Infrastructure for Roadway Electrification center to transform transportation and electric utilities: "the two largest industries in our nation, trillion-dollar industries," said ASPIRE's Director Regan Zane.
"Ultimately, our goal over the 10 years of the NSF grant is to bring society to that tipping point where the path is charted, and it's clear how electrification should roll out in our nation," he said.
While based at USU, ASPIRE is a partnership with multiple universities, such as Purdue University, University of Colorado Boulder, University of Texas at El Paso and the University of Auckland New Zealand, along with more than 45 private companies and institutions throughout the world, to work on widespread adoption of sustainable transportation and lowering electric utility costs in the process.
"To accomplish this, we have got to look at opportunities that mean we will charge our vehicles at lower charging rates," he said. "We've got to charge our vehicles more frequently, and we've got to decrease the size of the battery packs required on those vehicles … what we will be doing is bringing the charge to the vehicle."
The best way to do this? USU believes the key lies in its research on putting wireless charging technology into roads so vehicles can charge simply by driving certain routes.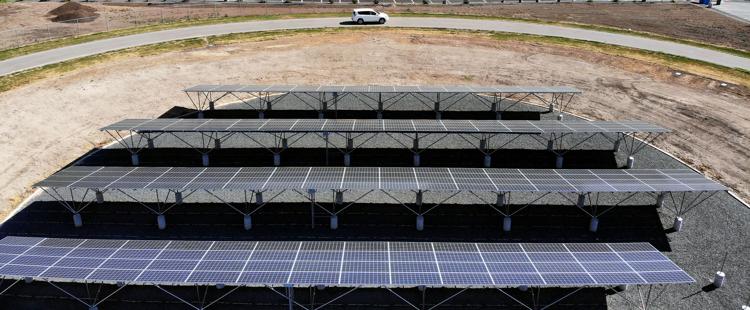 Leading the way in the sustainability and electric transportation fields is not new to USU.
In 2015, Zane's Sustainable Electrified Transportation center built the world's first electric test track on the university's Innovation Campus, as well as housing USU's largest array of solar panels.
To make the technology more accessible, "we need flexibility: flexibility in how, when and where we charge our vehicles," Zane said.
So USU researchers started developing dynamic charging where power transfer coils are embedded in roadways so vehicles — with a corresponding coil on the undercarriage — can charge while in motion rather than plugging in.
ASPIRE is the new iteration of SELECT, though when dealing with widespread adoption, even more testing is needed to determine the logistics of how this might look from multiple disciplines, such as civil and mechanical engineering, as well as environmental studies.
"The challenges are to make the pavement durable, because you know, you can embed stuff in concrete, but if it only lasts one season, that's not going to be very good," said USU Professor Marv Halling. "Especially here in Utah. We have freeze-thaw cycles, and we salt our roads pretty substantially. So salt and water and freeze-cycles are all difficult challenges."
Production of batteries for electric vehicles is also a concern, since the majority are lithium-based. While they play a crucial role in decarbonizing energy, the extraction of the element has significant environmental impacts of its own, such as water use and pollution.
And the size of batteries needed to power large-scale transportation, like semis, would be "simply too expensive and too heavy to let sit," Zane said.
Solutions include decreasing the size of batteries needed, especially as roadway charging eliminates much of the needed battery capacity.
"We're not just looking at reducing the direct cost on the surface," said Hongjie Wang, an assistant professor of electrical and computer engineering at USU, "but we look at the cost from the kind of lifecycle of the vehicle, from the battery to the vehicle and then, with the old batteries, how to recycle or leverage it into a second-life battery to further reduce costs."
Not only would a smaller battery mean a cost reduction, but lower environmental impact as Wang said the demand for batteries is not going away.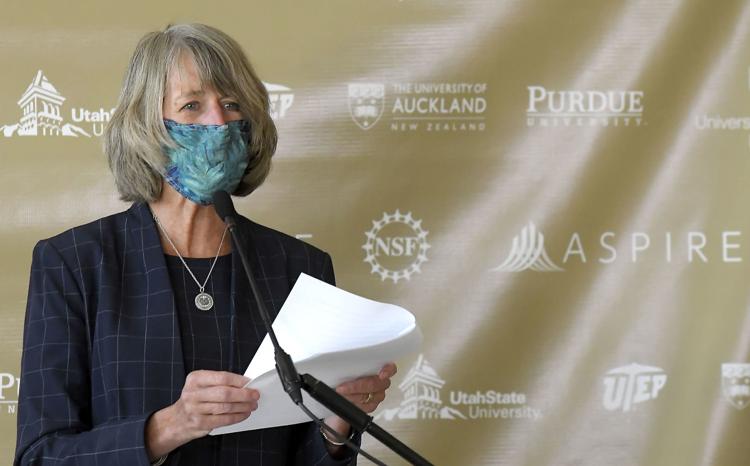 "Our need to move people and goods has not decreased; it is only increasing," Zane said. "This is particularly true for our freight. As we look at moving our freight around the country, it is expected that it will be increased by 50% over the next 20 years."
The transition to more sustainable fuel options is particularly important for Utah, according to State Senate President Stuart Adams, as it would combat the state's air quality issues — which will only worsen if the state continues to grow at the current rate.
"The solution is, very simply, we see that 50% of the air pollution comes from our tailpipes," Adams said. "This is where the rubber meets the road. If we're able to charge vehicles, perhaps as they drive down the road, not only will we compete with gas-powered vehicles, we'll be able to do better because we can pass up the gas stations and continue on."
Zane said as investment in infrastructure is directly tied to economic growth and opportunities, the program will be implemented to align with plans for rebuilding electrical grids and roadwork in coming years.
"I think this center has a duty to do the research and provide inputs so that as the government and as our country does that rebuild, we rebuild it for the future, not for the past," said Jake Gunther, the department head of electrical and computer engineering at USU. "We don't build it for a year, or a hydrocarbon, gasoline-powered transportation system. We build it for the electric future."
A future, based on ASPIRE team projections, that could raise more than $200 million in revenue over the next decade, especially as more businesses get involved — which according to Antje Graul, an assistant professor in the Jon M. Huntsman School of Business, will be crucial for decarbonizing energy and making it equitable for everyone.
"Especially if we think about urbanization, and people living in big cities," she said. "They do not have the opportunity to install their private chargers in their homes, and they might have to rely on public transportation. And for shared transportation to be electric transportation, they need an infrastructure that's going to be in place to help them achieve that goal."
USU has also set the goal to become carbon-neutral by 2050, and President Noelle Cockett said she hopes this center will help facilitate the process, such as all campus busing systems utilizing wireless charging on the university's roads.
"I would love to have some of the first demonstration sites for this technology," she said. "I can't think of anything better than to make our campuses, all across the state, this wireless technology."